Research In Motion's (RIM) much-anticipated BlackBerry PlayBook tablet hit stores this week in the United States and Canada. RIM has reportedly shipped some 50,000 PlayBooks–a mere fraction of the hundreds of thousands of iPads Apple sold on its recent launch day, but a healthy chuck of gadgets nonetheless.
Whether you're lucky enough to already have a BlackBerry PlayBook or are still considering the purchase, you'll be happy to know that RIM packed a number of valuable security safeguards into its tablet to help ensure that your PlayBook experience is a safe, secure and private one.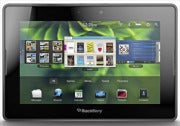 The following BlackBerry PlayBook tablet security and privacy tips address how to browse the Web safely, how to deal with lost or stolen devices, and more.
BlackBerry PlayBook Password–On Tablet and "Bridged" Smartphone
One of the easiest, most effective ways to protect your BlackBerry PlayBook tablet and all the potentially-sensitive data on it is by assigning a security password to restrict unauthorized access.